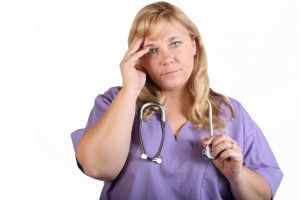 Dear J.T. & Dale: I am a nurse practitioner in a community health center. We have new management, and I question some of the new business practices. For instance, in the past, when leaving alone after-hours, I would walk out with a medical assistant. Now, however, there is no overtime, period. So if I am running late with a patient, tough luck. I also inquired why the MDs no longer have to share working nights and Saturdays. I was reprimanded for being negative. Did I cross the line? - Aubrey
J.T.: Anytime you have new management, you should treat it as if it's a new job. That means you need to learn the new culture. New leaders sometimes invite employees' opinions and suggestions; however, candidly, that's rare. New management comes in having assessed the business, and has clear ideas of changes they want to make. Often these are cost-cutting measures and are not open for negotiation.
DALE: Being called "negative" is serious. That means you are seen as an enemy of the new leadership. So if you want to stay, you're going to need to reposition yourself as a "team player." All you have to do is say to your managers, "I really want to contribute to the new team - how can I help?" However they respond, you implement their suggestions, and after a couple of weeks, go back to them and ask how you're doing. They will start to think of you as someone who cooperates and who cares about their opinions - in other words, a team player.
J.T.: Meanwhile, you must figure out ways, on your own, to put safety first. Make sure you don't have to leave late, or create a "buddy system" with another employee to wait for each other. If you solve your problems yourself, and help management solve some of their problems, you'll be a star on the new team.
---
Jeanine "J.T." Tanner O'Donnell
is a professional development specialist and the founder of the consulting firm,
JTODonnell.com
, and of the career management blog,
CAREEREALISM.com
. Dale Dauten resolves employment and other business disputes as a mediator with
AgreementHouse.com
.
Please visit them at JTandDale.com, where you can send questions via e-mail, or write to them in care of King Features Syndicate, 300 W. 57th St, 15th Floor, New York, NY 10019.
© 2011 by King Features Syndicate, Inc.