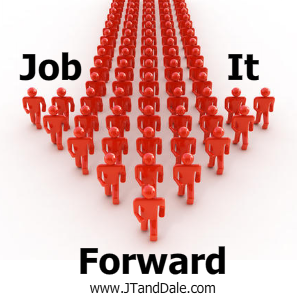 A Special Message from JT and Dale…
The answer is going to surprise you. The question is, Who can fix the unemployment problem?
The answer is "You." Yes, you… if you'll join us in a new people's movement we're calling Job-It-Forward. We can solve the problem that government and big business can't.
The government's stimulus has fallen short, and large corporations, while sitting on unprecedented masses of cash, have been reluctant to spend it on hiring. So the gears of the economy are ungreased and grinding, and every economic stumble, anywhere in the world, throws a bit more sand into the machinery of prosperity. What will change that? At present, there is nothing coming. No rescue. No hope. That leaves us.
We can do more than hope. We can start our own rescue – today. The experts – the same ones who got us where we are – will scoff, but there are recent precedents: both the 2008 elections, especially the financing of the Obama campaign, and the Tea Party movement. A people's movement could likewise energize the economy.
The opportunity comes from the fact that the job market is highly inefficient. While there are 15+ million unemployed, there are millions of jobs open, at least 4 or 5 million jobs and probably double that number. If only we could get better at putting people and jobs together, we could reduce unemployment by millions. Do that, and all those new salaries would be enough to fuel an economic spiral that would add millions of additional jobs.
Thus, we are the solution, and we'll be the beneficiaries of the next economic boom — our boom. So unemployment is everybody's problem and our great national possibility.
Here's what it would take. If you're out of work, you need to get better at asking for help (more on that at JTandDale.com); meanwhile, all the rest of us have to get better at giving help.
If you know someone out of work – and who doesn't? – offer your assistance. (Most job hunters have more advice than they know what to do with – so don't offer advice, offer help.)
1. Ask out-of-work people to describe specific types of jobs they are seeking. (Don't settle for "I'll take anything." Get specifics.) Odds are, you won't know of any relevant job openings. That's OK. Ask what type of company they'd most like to work for. (If they don't know, ask them to think it through and get back to you.) Now you have jobs and companies to work with.
2. Go through your contacts list looking for possible connections – someone who MIGHT know someone relevant. Email or call those people and say that you're part of Job-It-Forward and want to know if they know anyone who might help. If "yes," ask if they'd chat with your job seeker.
3. Whether or not you can make connections, offer help: Depending on your situation and the relationship, maybe you can do mock job interviews or maybe you can offer to pay for a new resume or an inexpensive career coaching package (see a list of options at JTandDale.com).
4. On the other side, the hiring side — here's a painful-yet-energizing irony: Many companies are too short-handed to do hiring. They are afraid to post job ads because they know they'll get hundreds or thousands of responses. So ask your friends who have good jobs, especially managers or owners, what they need help doing. (Don't ask about openings – ask about where they need help.)
5. Even better, maybe you can hire a new grad or other job hunter to do a few hours of work a week. (We have both have hired interns and research assistants. It's not much income, but it's experience and something to talk about at interviews. It's helped many get solid career jobs.) It's not a big commitment – they know the work is temporary and they keep looking for jobs, and maybe you can't pay much – but it's a big boost, psychologically. The unemployed need something to talk about and think about besides being out of work, something to keep them fresh and to give them hope. That's you.
Are you in? Yes? Then you are hereby appointed one of the Job-It-Forward ambassadors. Let us know how it goes. We'll be doing updates in every column and we want to have success stories to pass along.
At JTandDale.com you'll find copies of this appeal – please send it out to everyone on your list. There's also a video version that you can send links to.
There is a solution to unemployment: You're it. We're it. There are millions of people counting on us, so let's get busy.
---
Jeanine "J.T." Tanner O'Donnell
is a professional development specialist and the founder of the consulting firm,
jtodonnell.com
, and of the blog,
CAREEREALISM.com
. Dale Dauten resolves employment and other business disputes as a mediator with
AgreementHouse.com
. Please visit them at
www.jtanddale.com
, where you can send questions via e-mail, or write to them in care of King Features Syndicate, 300 W. 57th St, 15th Floor, New York, NY 10019.
© 2010 by King Features Syndicate, Inc.