PODCASTS - short (10-12 minute), info-packed sessions on career-related subjects:
I Got Fired - What Do I Say In Interviews?
"Spraying & Praying" While Being Uninteresting - How NOT to Get Job Interviews
Over 50 & Job Hunting? What Seasoned Professionals Need to Consider
BMW or Honda? How to Use Blogging & Social Networks to Develop a Stronger Career Identity
========
BOOKS
I'm In Transition…Now What? 12 Ways to Shorten Your Unemployment by 90 Days - CAREEREALISM-approved expert, Andy Robinson shows job seekers the smart way to tackle a job search.
Great Employees Only: How Gifted Bosses Hire and De-hire Their Way to Success:
Dale's top-selling management guide shares the secrets to building thriving teams devoid of poor performers.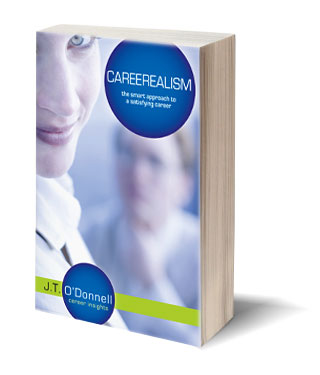 CAREEREALISM: - J.T's step-by-step guidebook for finding a better job and greater career satisfaction in today's changing professional landscape. Each purchase comes with a FREE resume review by a professional development specialist as well as personalized feedback on how to improve your job
search efforts.
STOP HOVERING: 10 Rules for Effective Elevator Parenting - Sign up to receive this FREE e-book which outlines how parents can help their children become better-adjusted, independent employees.
FREE WEB-BASED CAREER TOOLS
TIPS for Getting Your Resume Through Automated Application Process - by Tom Boyle - As a developer of the software used in the auto-application process, Tom offers advice on how to increase your chances of being at the top of the pile!
Mentoring Interview - Learn from 2008 Mentor of the Year, Kevin Martinez, what it takes to make a great mentee.

CAREEREALISM Career-readiness Quiz - Want to know how prepared you are to find a new job? Take this quiz to see how good your career development and job search skills really are.
The Career Interests Game - The University of Missouri's Career Center offers one of the best tools for learning about careers that suit your uniques combination of interests.
Interaction Style Assessment Test (ISAT) - A FREE tool that helps you understand how your personality impacts your career. You'll learn what kind of jobs, environments and even management styles are best for you.
Promotability Index - Take the test and see if you are ready for a step up in your career.
Smart Job Search - Newspapers are hot again when it comes to finding jobs in your local area. Visit this map and you'll learn why subscribing and reading the newspaper is a smart career move.
Mastering the Art of Differentiation - Dale's interview and subsequent article about infomercial superstar, Tony Little.