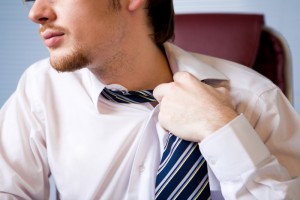 Dear J.T. and Dale: I was recently at a bar and ran into my (married) boss with another woman. It was clear they were more than just friends. The following week, my boss started being extra nice, getting me a special assignment, and pulling me aside to tell me he was requesting a salary increase for me. I'm no fool — it's obvious why he's doing this. I don't care about his personal life. I'm more worried about him going the other direction and trying to get me fired. Suggestions? — Drake
J.T.: It's true your boss could start to worry about what you'll say and get paranoid. So, depending on your relationship, I might opt to pull him aside and say you love your job, and you respect his privacy. That might be enough.
Dale: But consider this: By bringing it up, you feed his paranoia, a gambit that could be taken as a veiled threat. Instead, I'd go the other direction and put the new relationship to work for you. I'd find a time to confide in him, saying that you love your job, and you love working for him, and that you'd like to think that you're his ally. The goal of that conversation is he sees you as loyal to him and committed to his success; after all, the best way to get promoted is to get your boss promoted.
J.T.: Whether you try Dale's "double-down" approach or my "de-fuse" approach, you still should work on job alternatives. Get your resume up-to-date and do some networking — just in case things go sour.
Dale: (Sigh.) It's not like Drake found his boss burying a body, so there's no need to operate out of panic. That said, it's ALWAYS a good time to network, and not just outside the company, but in. Make new connections, volunteer for cross-discipline teams and keep asking how you're doing. In every economy, success is about learning, connecting and, in doing so, becoming more valuable.
---
Jeanine "J.T." Tanner O'Donnell
is a professional development specialist and the founder of the consulting firm,
JTODonnell.com
, and of the blog,
CAREEREALISM.com
. Dale Dauten resolves employment and other business disputes as a mediator with
AgreementHouse.com
. Please visit them at
JTandDale.com
, where you can send questions via e-mail, or write to them in care of King Features Syndicate, 300 W. 57th St, 15th Floor, New York, NY 10019.
© 2010 by King Features Syndicate, Inc.