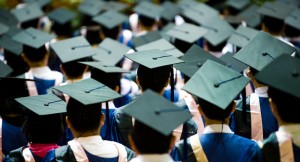 Dear J.T. and Dale: I graduated from college six years ago. Since then, I've had seven jobs in three industries. My family is disgusted with me. My parents think they wasted their money on my college education. I have three older siblings who all have solid careers. They think I am ruining my credibility and I need to suck it up and stay in my next job for five or more years. The idea of being in the same job that long scares me. How do you find a job you'll actually want to stick with? — Carol
J.T.: Finding a career path that you can get excited about starts when you stop trying to impress others and start looking at how you, and you alone, define success. The fact that you cringe at the idea of staying in a job five years says something about your need for variety. It's time to do some solid self-assessment and figure out what your work preferences really are, understanding that they will probably differ significantly from those of your family. After all, if you shared the same career interest as your family, their professional paths would be attractive to you.
Dale: I think the self-help literature has done a disservice by promoting "Do what you love, and you'll never work a day in your life." I think it would be more accurate to say, "Find something you love so much that you'll put up with all the other garbage that goes along with the job." So I'd start my self-assessment by looking at the moments of pleasure you found in those seven jobs of yours. Then start to consider how you could get more of those moments. Second, stop looking for the right job, and look for the right type of person — if you can identify eight or 10 people whose work or careers you admire, you can start to understand what would be meaningful work for you. Then go to the intersection of what's enjoyable and what's meaningful, and waiting there is your answer. Remember, you aren't just looking for a job, you're choosing the sort of person you will become.
---
Jeanine "J.T." Tanner O'Donnell
is a professional development specialist and the founder of the consulting firm,
JTODonnell.com
, and of the blog,
CAREEREALISM.com
. Dale Dauten resolves employment and other business disputes as a mediator with
AgreementHouse.com
. Please visit them at
JTandDale.com
, where you can send questions via e-mail, or write to them in care of King Features Syndicate, 300 W. 57th St, 15th Floor, New York, NY 10019.
© 2010 by King Features Syndicate, Inc.