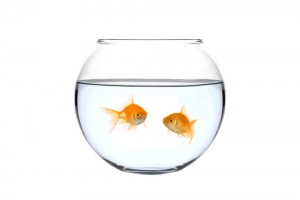 Dear J.T. and Dale: I am currently in a position I hate, working for an employer I dislike. I want to look for a new job while I have a job, but I have a challenge: My company uses some sort of service that notifies them as soon as someone posts a resume on a big job site using the company name. So how do I go about looking for a job when my current job will be in immediate jeopardy? — Bo
Dale: I have found it a useful to embrace The Fishbowl Assumption; this says that everyone finds out everything, especially the people you least want to find out. So your best strategy will be to find a new job without seeming to look for one; that is, to get an "unsolicited" offer. That means putting yourself in the right position to be discovered.
J.T.: You can easily start a job search without posting your resume online. Begin by setting up a LinkedIn profile. This is perfectly normal and does not mean you're looking for work. If a manager asks, say that friends and former colleagues have been asking to connect with you, so you felt it was time to set up a profile.
Dale: This is what came to be known, back in the Nixon era, as "plausible deniability." That means that you keep ready a good cover story and a well-rehearsed surprisey-face.
J.T.: Suprisey-face? Meanwhile, back to the profile…Make sure it is at 100 percent, which means getting recommendations from former managers or colleagues. E-mail them a note saying you are doing a "stealth" job search and ask if they would recommend you in such a way as to not mention your job searching. Again, as for "deniability," you can justify this to your current management, if need be, by saying that you can't have a complete profile without getting recommendations — perfectly normal.
Dale: Then, as always, the real key is to get yourself, not just your resume, out among people who could hire you. This is the time to become very active in professional, alumni, neighborhood and charitable groups. If all goes well, you'll meet people from employers for whom you'd like to work, and you'll express interest and get introductions. This is how you end up getting one of those "unsolicited" offers.
J.T.: You can do something similar online if you join industry groups on LinkedIn, subscribe to their updates and get involved by posting answers or inviting members to connect with you. Often such professional groups have job openings posted, so you can apply in a more private way.
Dale: You can even use your employer's monitoring to your advantage: explain the problem and you'll be more likely to get face-to-face meetings that you otherwise wouldn't, along with sympathy for a quick and quiet hiring process.
---
Jeanine "J.T." Tanner O'Donnell
is a professional development specialist and the founder of the consulting firm,
JTODonnell.com
, and of the blog,
CAREEREALISM.com
. Dale Dauten resolves employment and other business disputes as a mediator with
AgreementHouse.com
. Please visit them at
JTandDale.com
, where you can send questions via e-mail, or write to them in care of King Features Syndicate, 300 W. 57th St, 15th Floor, New York, NY 10019.
© 2010 by King Features Syndicate, Inc.