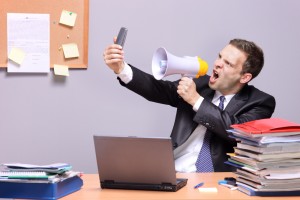 Dear J.T. & Dale: I just got a new job that I love. It took me a year to find it. Along the way, I had several interviews, but no offers, which I thought was just bad luck. Then my new boss shared with me one of my references had said terrible things about me. I was shocked! I thought she'd be my strongest reference. My new boss said the other references were fine and chose to believe me instead of her. How do you make sure your references won't do this to you? And should I stop associating with her? Should I confront her? — Lane
J.T.: Ugh. I hate stories like this. Just last week, I heard an even worse one. When "Jimmy" got laid off, his boss, "Frank," told him he would get a glowing reference. Then Frank also got fired. Each time someone called Frank about Jimmy, he gave Jimmy a bad reference and then tried to get an interview himself, hoping he could get the job instead!
Dale: That ranks as a new "worst" in "worst-case scenario." As for what to do now, Lane, I would NOT confront the woman. Instead, rise above, repeating to yourself the Zen expression, "Your enemy is your Buddha." Go to her, tell her about the new job and ask for her advice on how to excel in it. There is some lingering resentment there that you need to uncover, and along with it the possibility of some weakness in your performance or style that you need to deal with.
J.T.: In the future, it also helps to get recommendations in writing. I encourage people to ask for a recommendation on LinkedIn. That way, you can send the recommendations to hiring managers, then offer phone numbers should they want to follow up. This not only is easier for everyone, but your references have committed in writing their public compliments; should they suddenly offer private criticisms, it undermines their credibility and professionalism.
---
Jeanine "J.T." Tanner O'Donnell
is a professional development specialist and the founder of the consulting firm,
JTODonnell.com
, and of the career management blog,
CAREEREALISM.com
. Dale Dauten resolves employment and other business disputes as a mediator with
AgreementHouse.com
.
Please visit them at JTandDale.com, where you can send questions via e-mail, or write to them in care of King Features Syndicate, 300 W. 57th St, 15th Floor, New York, NY 10019.
© 2011 by King Features Syndicate, Inc.