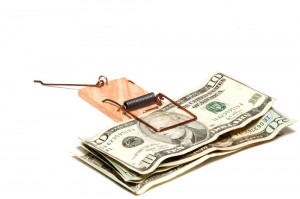 Dear J.T. & Dale: I recently lost my job. I'm now working a part-time job that does not pay enough to maintain my expenses. I'd like to do clerical work from home to earn extra money. With all the scams today, could you point me to some sites that could help? — Debbie
J.T.: I find it harder and harder to refer sites like these — the scams seem to be out in full force! To avoid being taken advantage of, be sure you…
(A) Never give any personal info, such as your Social Security number, until you're at the point of getting a job and getting paid.
(B) Always check out the company's reputation — do an Internet search, check with the Better Business Bureau and ask to speak to people who've been successful using their service.
That said, there is one site getting some good attention, FlexJobs.com. It posts jobs for part-time and work-from-home positions. It's a subscription service, supposedly to help ensure quality results.
Dale: Backing up, you need to remember employers don't really want to post a job, especially a highly desirable one like you're describing. They know all the applications and interviews, plus dealing with all the aggressive candidates who call or stop by, will eat up a lot of their time. So you'll want to spot jobs before they're posted, and that doesn't just mean asking a few friends if they know of any openings. Instead, ask everyone you know if they know anyone who owns or runs a business. Then ask for an introduction, at least via e-mail. Networking isn't just asking around, it's gathering leads and following up — that's the "work" in "networking."
---
Jeanine "J.T." Tanner O'Donnell
is a professional development specialist and the founder of the consulting firm,
JTODonnell.com
, and of the career management blog,
CAREEREALISM.com
. Dale Dauten resolves employment and other business disputes as a mediator with
AgreementHouse.com
.
Please visit them at JTandDale.com, where you can send questions via e-mail, or write to them in care of King Features Syndicate, 300 W. 57th St, 15th Floor, New York, NY 10019.
© 2011 by King Features Syndicate, Inc.