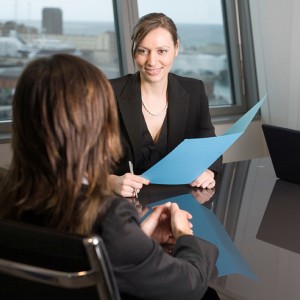 Dear J.T. & Dale: I heard more contract jobs (a.k.a. temporary) are popping up. What's the best way to approach a temporary agency for a job? — Manny
Dale: The best way to approach any career conversation is to consider what's in it for the other person, as in "What's the staffing person looking for?" Well, someone who's easy to place. The natural tendency is to think you'll be that person by saying, "I'll take anything." NO. Imagine the agency person calling the client and saying, "Get excited! I found you someone who'll take anything!"
J.T.: Dale's point is that lots of people are knocking on the doors of temporary agencies these days, and most of them are looking for any job they can get. And, yes, that's the problem! Temporary agencies want to place talented people who are strategic in their careers, which means people who have career goals and target employers. If you know what kind of company you eventually want to work for, go to staffing companies in your area and let them know that you have a plan.
Dale: Being specific about types of jobs and employers may seem to reduce your odds of getting an interview, but it's just the opposite. Let's go back to that phone call from the staffing company to the client, but this time saying, "I found someone who's not only qualified, but who has a target list of three companies, and you're at the top."
J.T.: If you want to expand your availability, do it by letting the staffing company know you are open to taking entry-level jobs with specific employers. That's good for the staffing company because it knows you are more likely to stick with a job in a place where you ultimately want to get hired. Plus, if you do get a job offer, they'll get a commission — making them even more excited about the idea of placing you there. Make it easy for them to recommend you.
---
Jeanine "J.T." Tanner O'Donnell
is a professional development specialist and the founder of the consulting firm,
JTODonnell.com
, and of the career management blog,
CAREEREALISM.com
. Dale Dauten resolves employment and other business disputes as a mediator with
AgreementHouse.com
.
Please visit them at JTandDale.com, where you can send questions via e-mail, or write to them in care of King Features Syndicate, 300 W. 57th St, 15th Floor, New York, NY 10019.
© 2011 by King Features Syndicate, Inc.