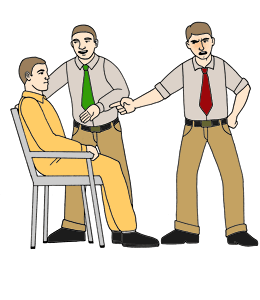 Dear J.T. & Dale: During my employment interviews, I came across a tactic that I can only describe as "good cop/bad cop." The "good guy" smiles and asks the easy questions, while the "bad cop" sneers and asks the tough ones. I've been around long enough to have a thick skin, but this abuse really bothered me. — Ray
J.T.: That technique is designed to assess how well you work under pressure and weed out people who are exaggerating their backgrounds. In this economy, you can expect to see more of such aggressive interviewing styles. And when you do, the most important thing is to recognize it and not take it personally.
Dale: We understand how you could choose to take offense at the very idea of playing games in interviews, and thus, turn skeptical toward any organization that employs such tactics. However, the interview is not the place to make an assessment of management. You are there to get a job offer. Don't clutter your mind with any other considerations. Later, you can research the company and make an informed decision about the caliber of management and whether you want to be part of that team. In the interview, be in the game.
J.T.: And you'll want to prep for that game. If you visit my Web site, careerealism.com, under "Free Career Tools" you'll find one for interview prep. It provides you with questions you might be asked, as well as questions you can ask to make a great impression. This sort of preparation will help you to not get bothered by the good cop/bad cop process.
Dale: And speaking of getting bothered … remember that some managers pride themselves on asking tough or unique questions — offbeat, challenging, even impossible ones. If that happens, don't be afraid to show surprise, to grin and say, "Whoa, that's something I've never thought about." If need be, say you'd have to think about the question in order to give a really good response. You might even ask the interviewer, "How would you answer?" And somewhere in the interview, you might say, "Now, can I ask you a tough question?" Then inquire about what they think is the worst thing about the company, or ask what kind of employees do best at the company. It's a game — play hard, play well and don't be afraid to let the other team know you're enjoying how they play.