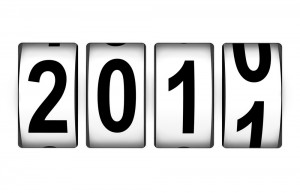 As we begin the new year, we want to take a look back at 2010 and pull together the suggestions our readers told us were most helpful. So, here's our best advice, along with our wish 2011 will be your best career year yet. — J.T. & Dale
ON GETTING "CERTIFIED"
Getting a degree or certification and then asking, "Where is my job?" is like getting a driver's license and asking the person behind the counter at the DMV, "OK, I got the license, now where's my car?" Even though you made the effort to go back to school, you're going to have to focus on some heavy-duty networking in order to get a job. Start with the school's career center, but if that doesn't help, contact everyone with whom you went to school. Try to form a networking group with others from your school. In other words, take the initiative and do yourself whatever you wish the school were doing to help you.
ON HAVING AN EMPLOYEE FILE AN ANONYMOUS COMPLAINT ABOUT YOUR MANAGEMENT
The first thing to do is take your boss aside and find out exactly how she's feeling about the incident. Then, even if she's sympathetic, do not ignore it. Suspicions are like roaches — just because you don't see them doesn't mean they are gone. No, they're there, in the shadows, reproducing. So plan a series of meetings with your boss, seeking feedback, making sure she is clear you are doing all the right things. Plus, find ways to improve relationships with your staff. The best way is to help each one with his or her career. When you invest in helping them achieve their goals, they are far less likely to turn against you.
ON NOT HEARING BACK FROM EMPLOYMENT AGENCIES
Employment agencies have been completely overwhelmed by applications and thus have abandoned the old niceties. They try to process all the folks who come in, but honestly, it's only the candidates who "connect" with the staffing agency placement specialists who get attention. Are you a person who's going to make them look good to the hiring managers who are their clients? Try saying something like: "I know how busy you and your co-workers must be in this recession. I can only imagine how many people have reached out to you. But I promise if you give me a few minutes of your time, I will be open to any feedback you provide. My goal is to be the one candidate you would LOVE to place."
ON LEARNING THE AVERAGE JOB SEARCH IS TAKING EIGHT MONTHS
The length of the average search is a good reason not to be average. The typical job search is full of inefficiencies. One example: Do NOT expect your friends or contacts to find you a job. Most people waste weeks or months waiting for their friends to present them with opportunities, but the truth is most people can help you only when you help them do so. Spending a lot of time asking, "Do you know of any openings?" is not nearly as effective as making a target list of companies and asking your contacts if they know anyone in those companies.
ON WRITING A GREAT COVER LETTER
Create a cover letter that "gets them at 'Hello,'" which means the first sentence must NOT be "I'm applying for your job as listed on …" Rather, cover letters need to tell the story of why you respect what the company does and the origin of that respect. That's how you demonstrate you'd be a good fit. Why bother? Because you can never forget there are plenty of other people with equally good skills who are also applying.
ON HAVING A GAP IN WORK HISTORY DUE TO ILLNESS
Put a positive spin on the experience, saying: "I'm glad you asked. It's actually an interesting story. I had to have surgery, which was successful. I wasn't able to work during that time, but it was a huge learning opportunity and I'm relieved to have it behind me, because I hated not working." It comes down to the way you present it. If you hesitate or act nervous, they'll worry you are hiding something. But proudly share what made you stronger and better, and employers will admire you.
ON TRYING TO FIND A NEW CAREER FIELD
You start with research. But don't think that means reading career books and web-surfing. The most important research you can do is to single out the people in your life you admire. Meet with them informally and get them reminiscing about their career decisions and turning points. You will discover — and discovering it yourself makes all the difference — that your past holds the clues to what talents you should be evolving, and, knowing those, then luck/coincidence/synchronicity are invited into your life. Heightened awareness of your own skills, combined with the energizing work of meeting interesting people, will yield more job success than a thousand online job applications.
ON HEARING OF A GREAT NEW INTERNAL JOB POSSIBLY BEING CREATED
Before you meet with the manager, make sure you can answer these questions:
- Why do you think the job is a great move for the company?
- How can you save and/or make the company money in the job?
- How will you hit the job running?
Notice the theme of the questions — it's NOT about YOU; it's about how you can help the company/manager.
ON BEING UNFAIRLY CRITICIZED BY THE BOSS
If you focus on what YOUR BOSS could do better, you'll stop focusing on what YOU could do better. This is an opportunity to rise above the criticism, to show grit and the love of a challenge. Instead of being shocked and shouting "Unfair!" a great employee responds by getting better — openly, demonstratively better. Get mentoring and assessment or read books until you find ideas you can implement, and then go to your manager and tell him what you're doing and ask for suggestions. Make your boss an ally in your personal growth, and maybe he'll even do some growing himself.
---
Jeanine "J.T." Tanner O'Donnell
is a professional development specialist and the founder of the consulting firm,
JTODonnell.com
, and of the blog,
CAREEREALISM.com
. Dale Dauten resolves employment and other business disputes as a mediator with
AgreementHouse.com
. Please visit them at
JTandDale.com
, where you can send questions via e-mail, or write to them in care of King Features Syndicate, 300 W. 57th St, 15th Floor, New York, NY 10019.
© 2011 by King Features Syndicate, Inc.